Saving water
​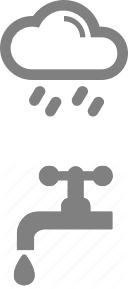 Rainwater harvesting is becoming more important with the need to save water and the environment.
We are able to specify the correct size for your new build and install a system that will fill toilets and supply water to outside taps. Mains back-up can be fitted to ensure you never run out.
Retro-fitting a fully integral rainwater harvester is not always practicable for an existing property, but it is possible to fit an underground tank that will supply water for external taps, for watering the garden and washing the car.
Please contact us for a free no obligation quotation today.